Microsoft has decided to make security much more strict from June 21 2022.
Therefore, Word documents from other sources will be blocked on your computer….
You can unblock this yourself.
Please follow the steps below.
Go to the Eventure Data folder in your explorer and go to the conference you have the blocked Word files.
Find the Olxxxx.doc or Olxxxx.docx documents in your project. (like \EVWDATA\EVE2300\ in the data directories). There can be one ol0001.doc or more.
Then select one document and click with the right mousebutton to see the properties: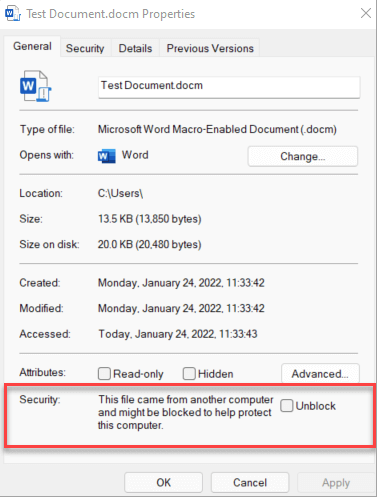 In the bottom you would see the new security property and choose Unblock and OK.
Do this for all documents.


If that doesn't work, you can try this:
Find the Conflet document for relevant Conference, within EVWData in File Explorer.
Open the document
File
Option
Trust Center
Trusted Locations
Trust Center Settings
User Locations
Add the same URL as the Conflet document comes from (better use the path to the EVWDATA folder and check the box 'Trust sub folders of this location as well'.