There are a lot of types of badges. The badge module of Eventure contains all standard types which Parthen Meeting Services supplies. When you're not sure about the type, just follow the steps below to find out the type of badge you ordered.
Select the badges option from the 'Reports' menu in the Participant Module.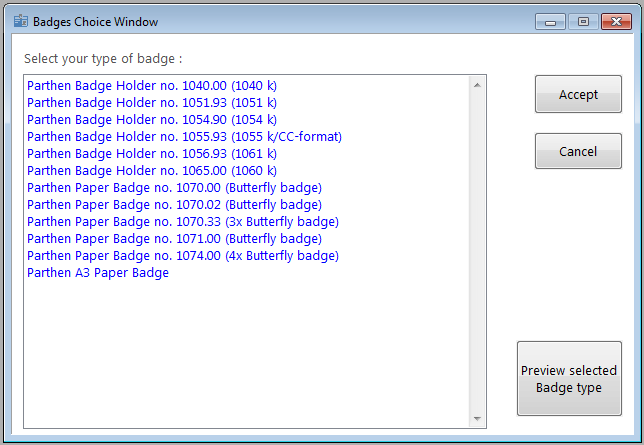 By clicking 'Preview selected Badge type' you can find information about the badge, such as the size.
Available badges
Badge Paper
1040-k


Badge Holder
1040.00

Badge Paper Size:
Badge width: 90 mm
Badge height: 55 mm
Margin top/bottom: 11 mm
Margin left/right: 15 mm

1051-k


Badge Holder
1051.93

Badge Paper Size:
Badge width: 148 mm
Badge height: 105 mm
Margin top/bottom: 0 mm
Margin left/right: 0 mm

1054-k


Badge Holder
1054.90

Badge Paper Size:
Badge width: 102 mm
Badge height: 62 mm
Margin top/bottom: 0 mm
Margin left/right: 6 mm


1055-k
1055-c (colored)


Badge Holder
1054.90

Badge Paper Size:
Badge width: 90 mm
Badge height: 53 mm
Margin top/bottom: 32 mm
Margin left/right: 30 mm


1060-k
1060-c (colored)


Badge Holder
1065.00

Badge Paper Size:
Badge width: 92 mm
Badge height: 59 mm
Margin top/bottom: 0 mm
Margin left/right: 26 mm


1061-k
1061-c (colored)


Badge Holders
1056.93
1056.XX
Frontpocket 1051.93

Badge Paper Size:
Badge width: 105 mm
Badge height: 74 mm
Margin top/bottom: 0 mm
Margin left/right: 0 mm

Butterfly badges 1070.00 (1 slit)


Badge Paper Size:
97 x 86 mm

Butterfly badges 1070.02 (2 slits)


Badge Paper Size:
97 x 86 mm

Butterfly badges 1074.00 4x (1 slit)


Badge Paper Size:
54 x 86 mm