You use this option when you want to use Eventure at the congress and wish to register participants. In order to be able to register participants on-site you need to make some preparations in the program. Initially you need to copy the relevant data in order to be able to use these for on-site registration. And finally, you can send this data back into the system for processing after the congress is over.
Copy of congressdata for use during conference (Copy conference to Workstation)
Go to the Main Module of Eventure.
Then go to File -> Conference Location Copy -> Copy Conference to Workstation.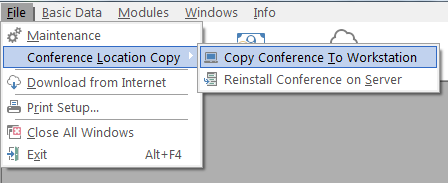 Select the conference that you wish to use for on-site registration, using the 'Conference' drop down menu '. Now click the 'Start' button. A copy of Eventure with the data for the selected congress is now copied to the 'Eveuser' folder in drive 'C' of the computer on which this action will be performed. During the copying process the file names being copied are displayed. The 'thermometer bar' ('Total copied') indicates the progress of the action.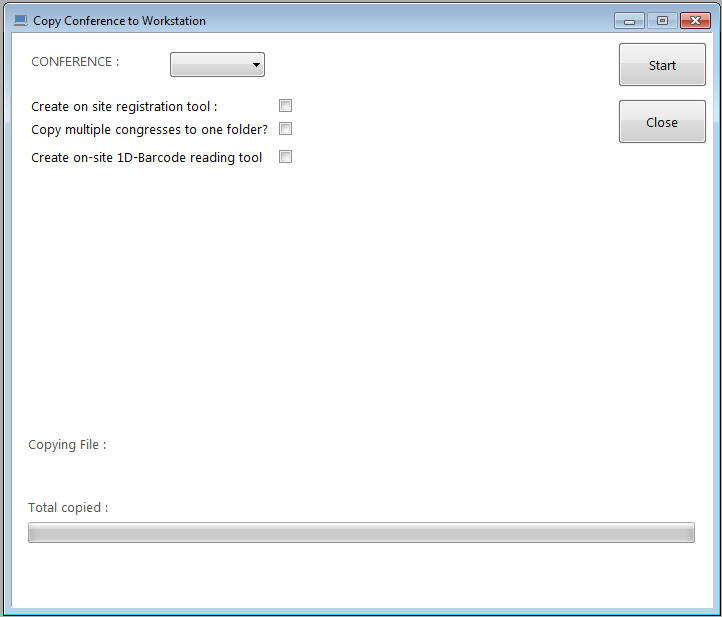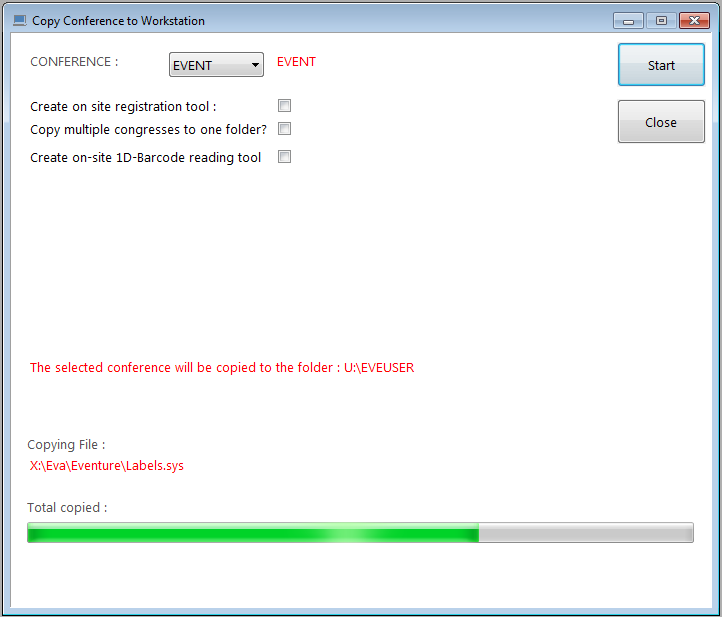 If you have already exported a congress, Eventure will report that the directory (folder) C:\Eveuser already exists.
When the export is completed the following message is displayed.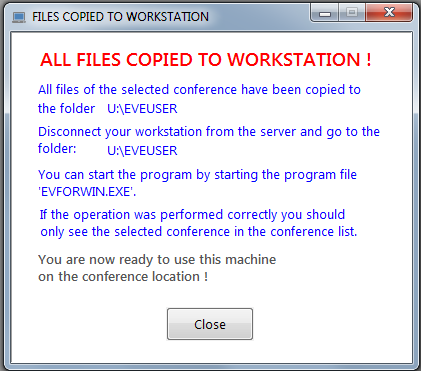 The default location of the local copy is C:\EVEUSER, but this can be changed in the Eventure configurationfile (EVW.ini > LocalCopyDir="C").
When you want to copy the local copy to your server or USB-device, make an entire copy of the EVEUSER folder.
The program is started with the file 'Evforwin.exe', residing in the 'C:\Eveuser\' folder. When the 'List Conferences' screen appears after you have started up the program, you will see that only one congress is available to you, namely the congress that was copied.
To make it easier for you to start up, make a quick start icon for 'Evforwin.exe' on your desktop.
After you have copied the data to the workstation, it is better not to work on this congress directly at the server, because when you copy the modified congress data back to the server, all changes made on the server will be lost.