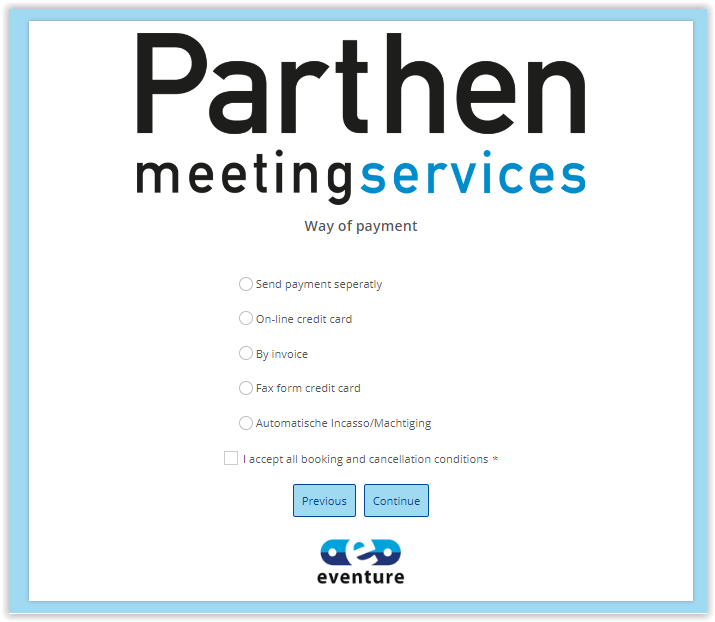 On the way of payment page you will find several ways of payment. Some are only visible if you have the module, like the 'On-line credit card' and 'Automatische incasso/machtiging'.
If the participant chooses for 'Send payment seperatly'. the next screen will be the 'Filled registration page' where the participant can submit.
With the 'On-line credit card' the participant will first go to the 'Filled registration page' to check his filled out data and then go to the payment provider to pay online.
Choosing 'By invoice' will take the participant to the billing address page where he/she can fill out another billing address if applicable. After the billing address page, he/she will go to the 'Filled registration page' to submit.
The 'Fax form credit card' is not used anymore. It was from the old days that people were allowed to fax their credit card details.
'Automatische incasso/machtiging' only works for Dutch clients if they have the module to (semi) automatically collect the money by bank from the participants.
The payment page has a few settings.
Via the participant dashboard -> gear icon -> payment tab you get the following screen.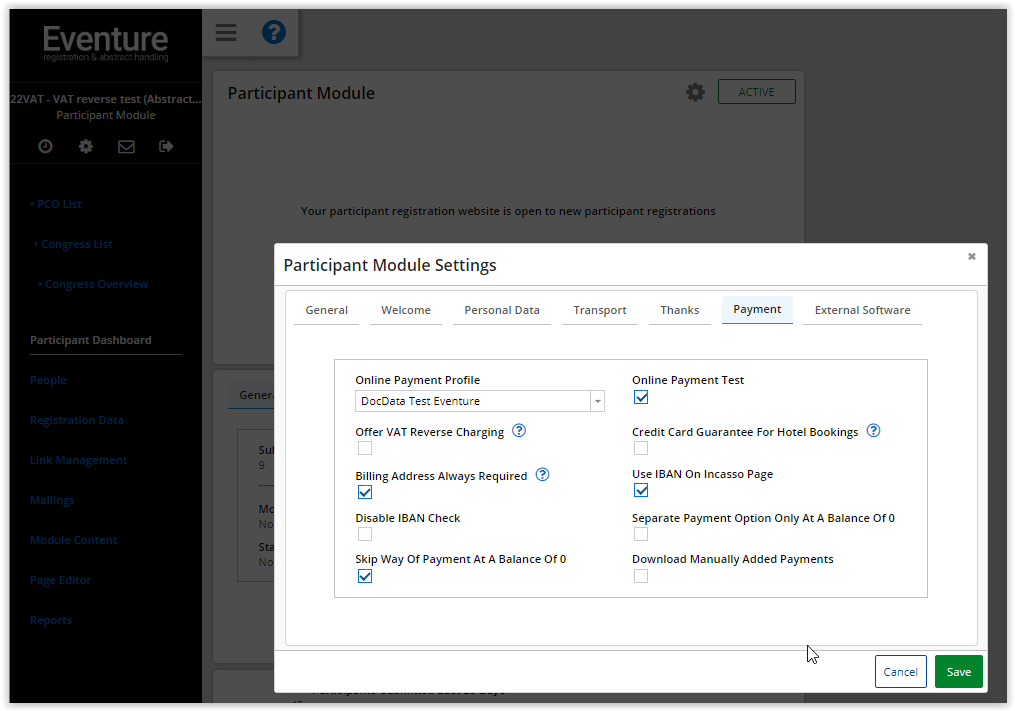 Online Payment profile is only applicable if you have the module. Depending on the contract you have with the payment provider, you can select here the profile for this conference.
Online payment test can only be used if you have a test option at the payment provider to make test payments.
Offer VAT reverse charging,

Allow entrepreneurs or entities that are established in the Netherlands to reverse charge the VAT by entering a VAT number on the 'Way Of Payment' page.

Credit Card Guarantee For Hotel Bookings, Allow participants to give a credit card guarantee instead of paying the hotel fee directly.
Billing Address Always Required, Participants will always be required to fill in the Billing Address form before either choosing a payment method or submitting their registration, should payments be disabled.
Use IBAN On Incasso Page, only applicable with the 'Automatische incasso module' to use the new European bankaccounts.
Disable IBAN Check, the check for a correct bank account can be switched off when the field is used for other purposes.
Separate Payment Option Only At A Balance Of 0, you can hide the 'Send payment seperatly' option on the way of payment and only show it for free participants/speakers. Very handy when using the online payment option as only option to submit. Then the participants that need to pay a fee are forced to pay, but the free participants/speakers can still submit.
Skip Way Of Payment At A Balance Of 0, if a participant/speaker doesn't have to pay, he/she can also skip the way of payment.