Making changes at the registration events page is slightly different then on the other pages.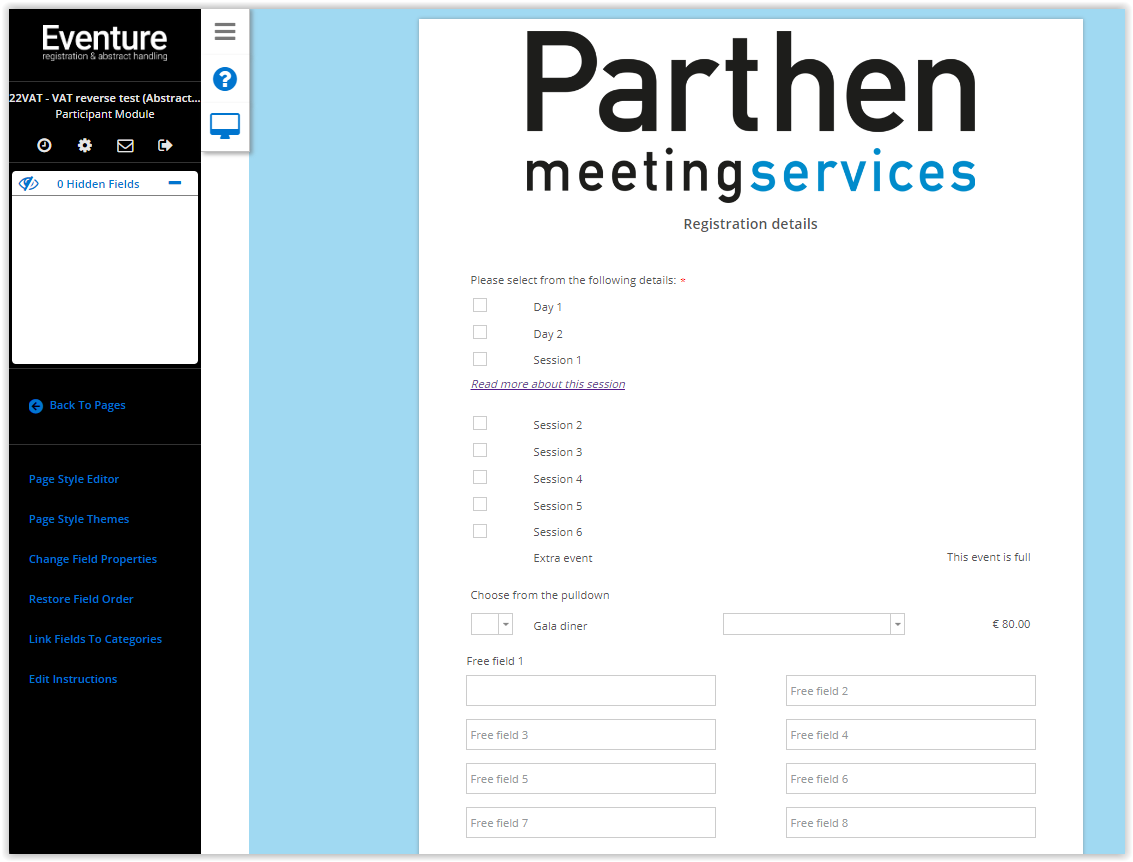 To change the order of the events, add upper/lower text or make changes in the title, all has to be done in the 'Module Content Page'.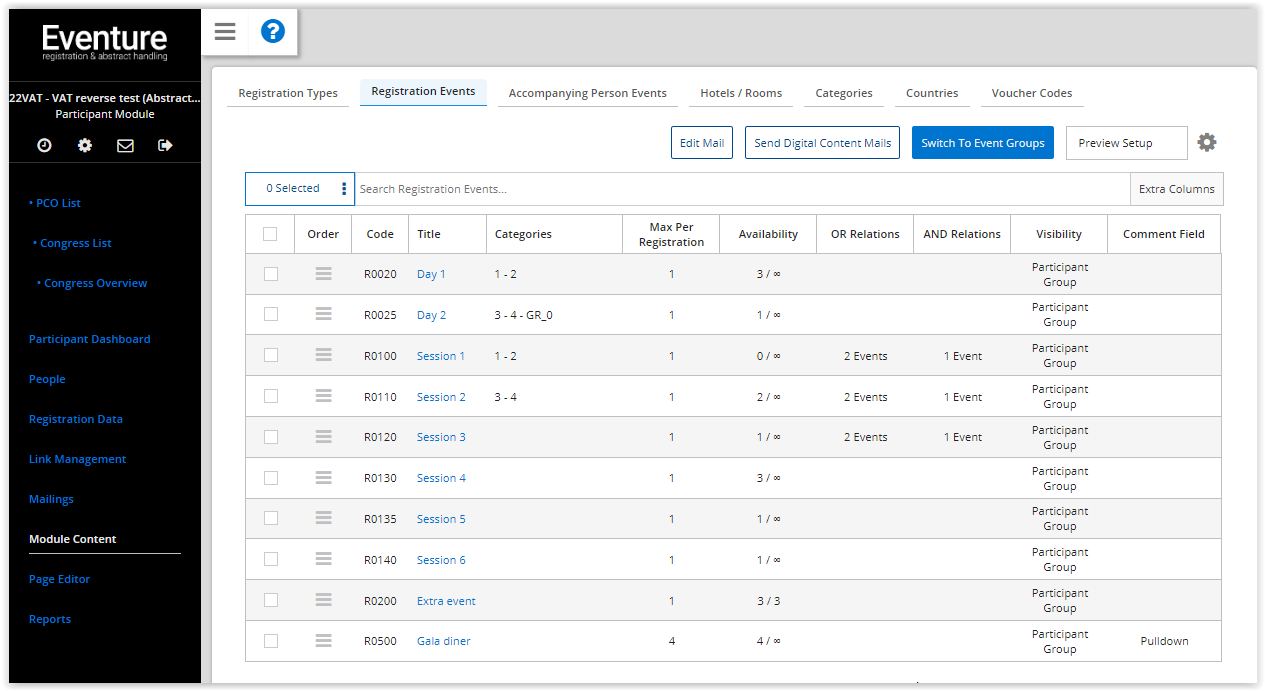 Edit title, add/edit upper and lower text.
Click in the above screen on the event you want to change and the following screen will be opened.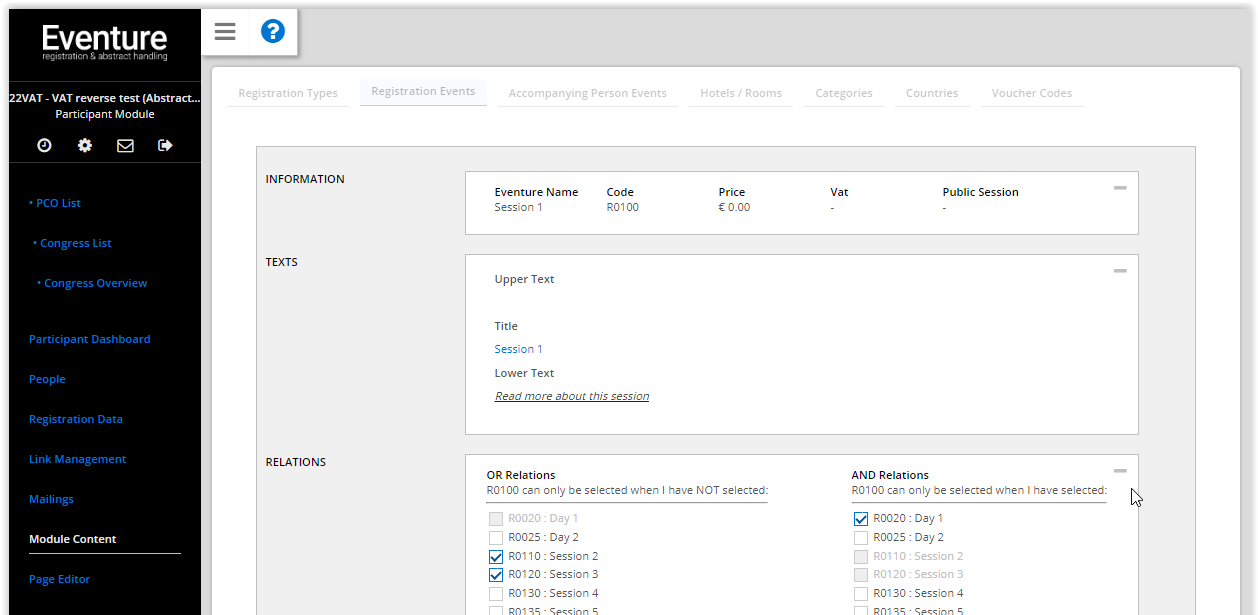 To change the title, please click on the blue title of the session. In the example 'Session 1'.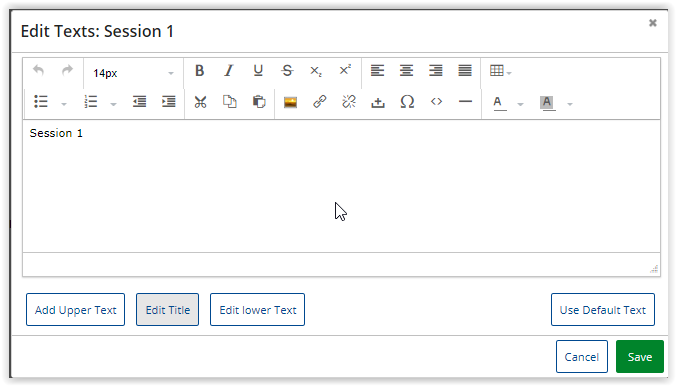 In the same screen you can also add/edit the Upper and lower text by clickin on the corresponding button.
Change the order of the events
Please click on the 3 grey horizontal strips in front of the event in the event overview list and drag the event to the right place.
Other registration events settings
Via the Module Content -> Registration Events -> gear icon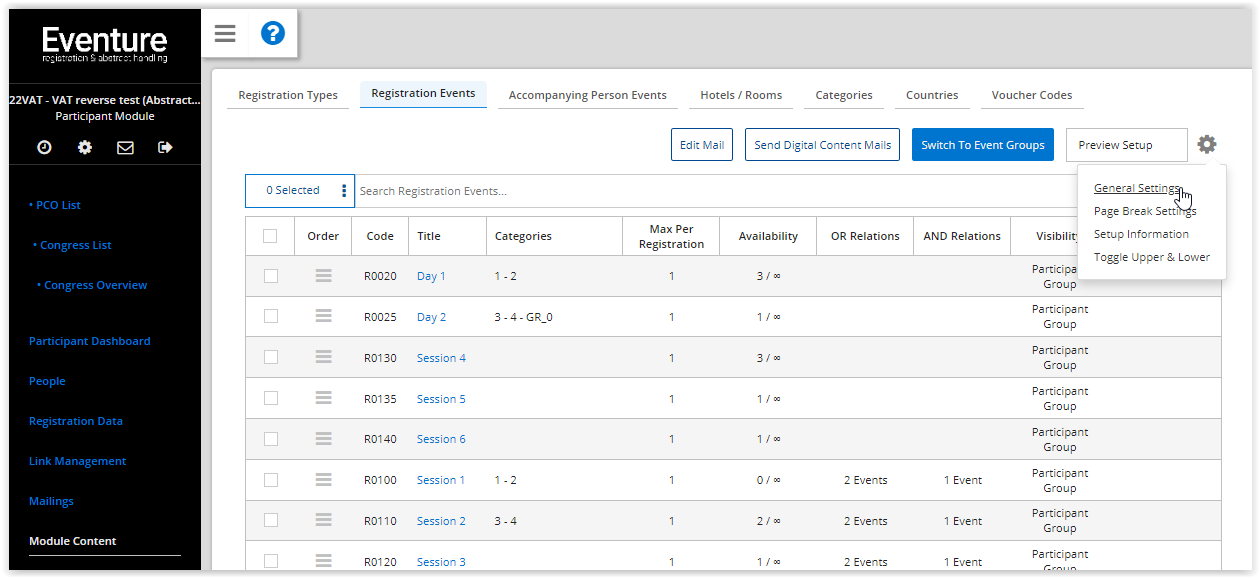 General settings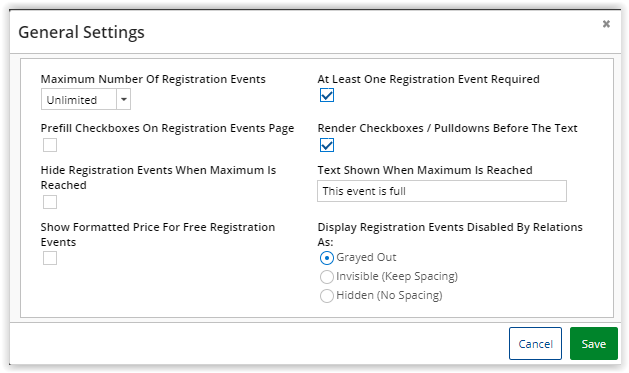 * Maximum number of registration events, to set a maximum number of events to choose out of all registration events.
* At least one registration event required, when checked the participant has to choose at least one of all registration events.
* Prefill checkboxes on registration events page, to have all event checkboxes checked when a participant enters the registration events page.
* Render checkboxes/pulldown before the text, to have the checkbox/pulldown before the event instead of behind it.
* Hide registration events when maximum is reached, when you set a maximum number to an event, you can choose to hide the event when the maximum is reached.
* Text shown when maximum is reached, you can choose to leave the full event in the list, but enabled. The text you put in the field will be shown behind the full event.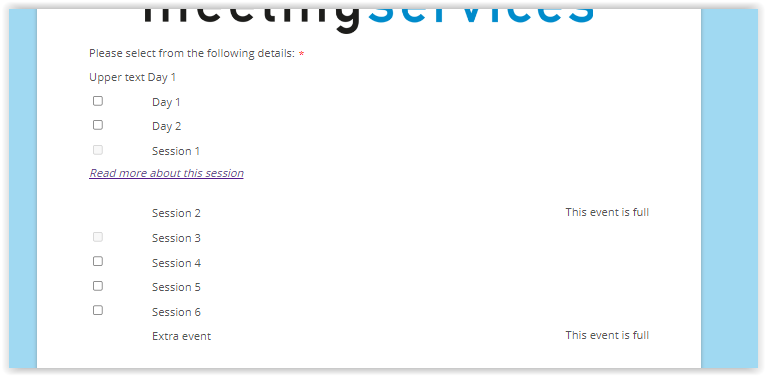 * Show formatted price for free registration events, to show the 0.00 price.


* Display Registration Events Disabled By Relations As:
Grayed out
Invisible (keep spacing)
Hidden (no spacing)
When an event is related to another, you can choose with the above options how you want to show or not show them.
Page Break settings
With the page break settings you can divide the events into different pages.
The setting screen looks like this: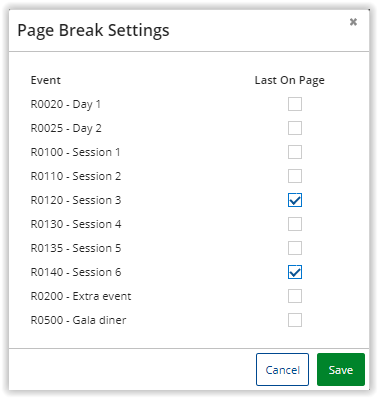 The participants see it like this:
Page 1: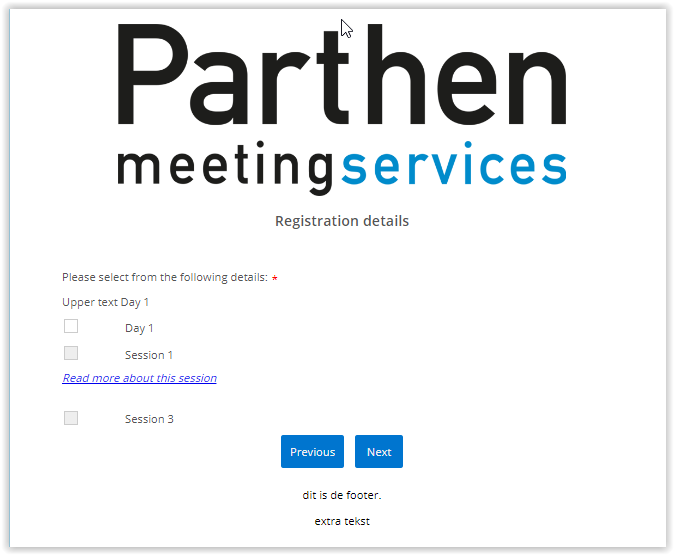 Page 2: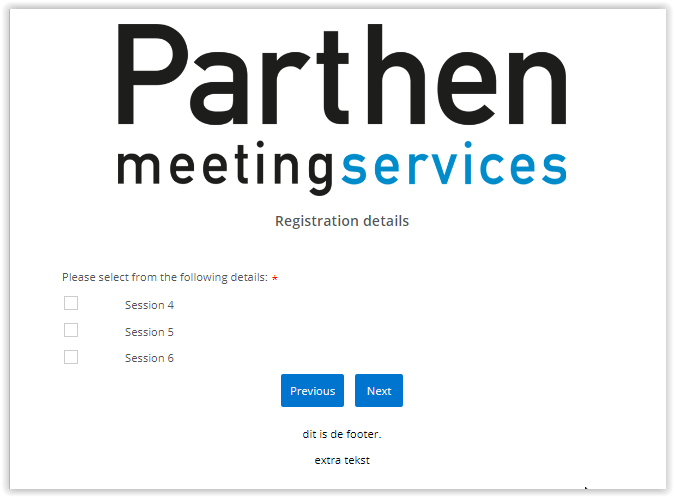 Page 3: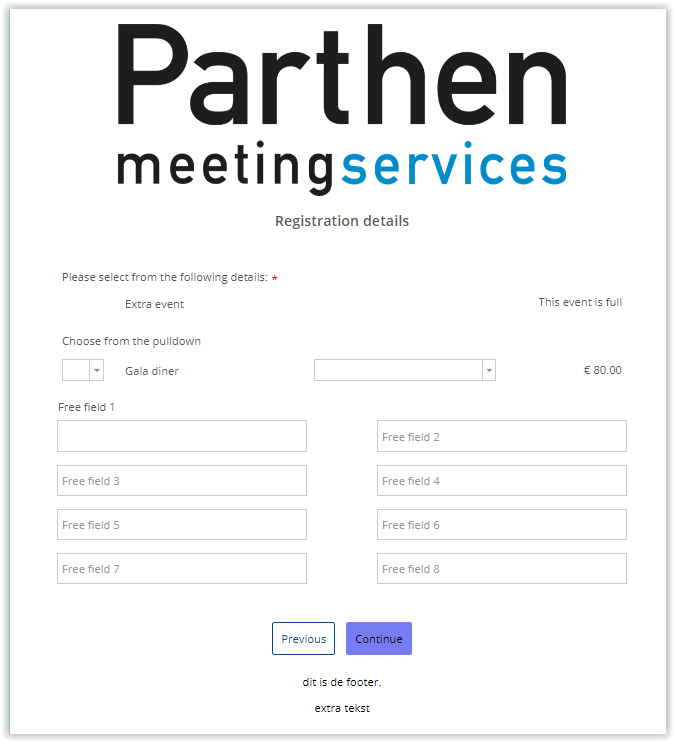 Setup information
If you use the categories on internet, you get an overview of the events per category.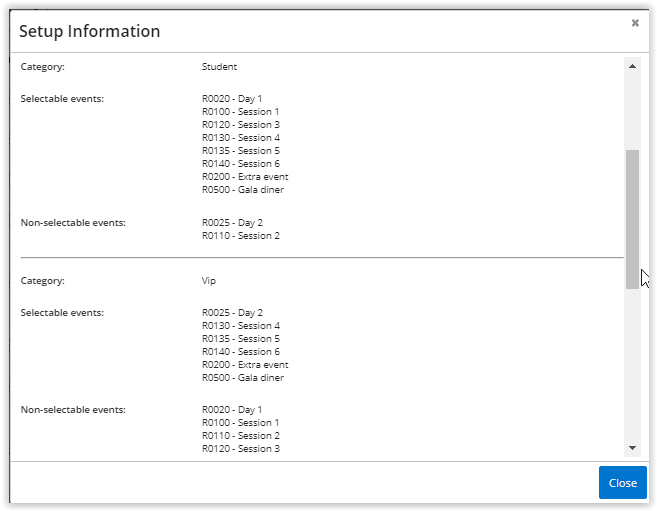 Toggle Upper & Lower
With this option you can show or hide the upper and lower texts in the table.

Preview of the events
Via the Preview setup -> Registration events you can see how the participant sees the events when logged in.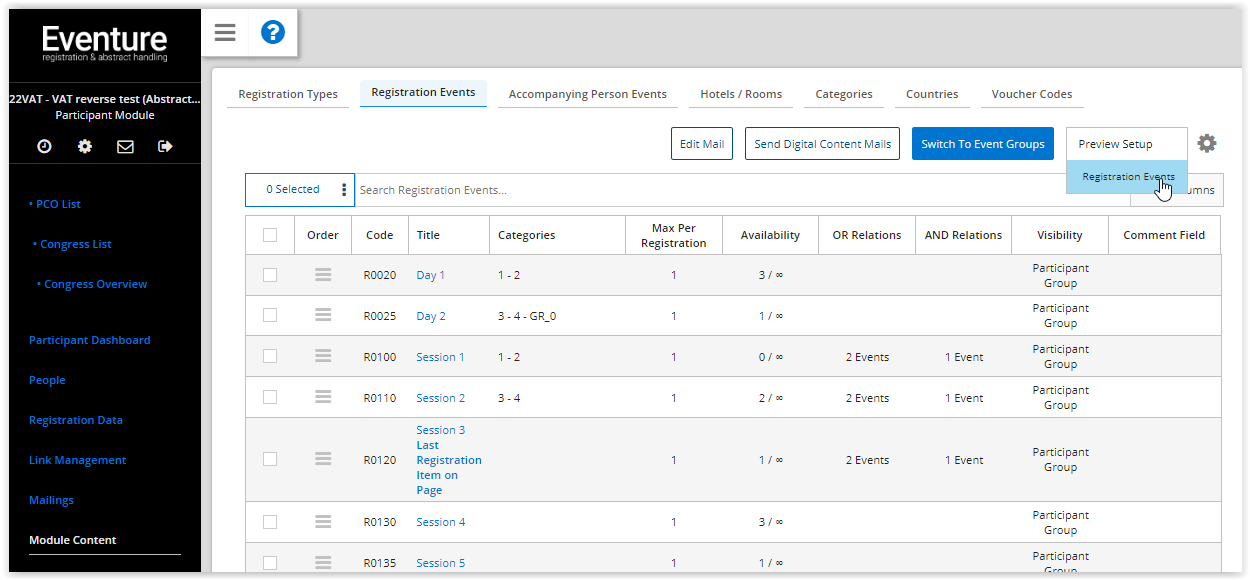 The preview: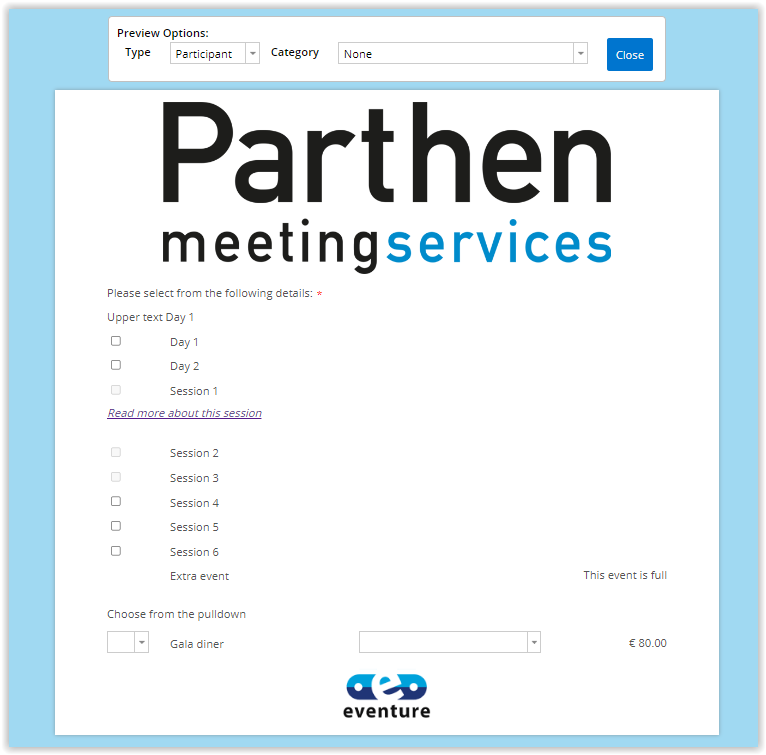 If you use categories on internet, you can preview the screen per category: